Web First for Mobile
My mobile performance research focuses on mobile web. I don't analyze native apps. Why? I believe in the openness of the Web. I don't like being forced to use a proprietary technology stack. I don't like signing legal documents. I don't like having to be approved by someone. Although I don't write commercial apps, I don't want the people who follow my work to have to pay a share of their revenue to a gatekeeper.
I also understand that it's important for many people to build native apps, especially if they're doing something like games that require the performance and device APIs that might only be available to native apps (right now). This is not a blog post about whether you should build a mobile web app OR a native app. This blog post is about building your web app first. You might eventually end up with both a web app AND a native app. Regardless, your mobile web presence is the place to start.
This prioritization of mobile web presence before native apps crystalized for me last week at Mobilism. Three speakers, James Pearce, Jason Grigsby, and Scott Jenson highlighted factors for why building for the mobile web should come before native apps.
First off is this slide from James Pearce's talk. It shows that Facebook's unique users from mobile web browsers is more than those from their native apps combined. This might not hold true for all companies, but it does show that the web browser can be, and in some cases is, the preferred client on mobile, and certainly lowers the barriers allowing access to a wider audience.
This leads to the second point, this time from Jason Grigsby. Jason actually spoke about TVs at Mobilism (huh?), but I recalled him saying "URLs don't open apps" when I hosted Jason at Google for a tech talk. People frequently communicate using URLs – in their tweets, emails, bookmarks, etc. And these URLs don't open apps. So it's critical that companies ensure they have a web presence that works on mobile.
Jason highlights the need for a mobile web presence with examples including this one from Chanel. This first screen shot shows Chanel's native app. It's a good looking UI and we can be assured that Chanel devoted significant resources to build and ship this.
I'm not big on perfume, so I might be biased, but it strikes me that people interested in Chanel might not start by searching the app store. I can see Chanel fans searching Google Maps on their phone for the nearest Chanel store. Or doing a web search for "Chanel" to find a list of store locations on the main website. But when the mobile user navigates to the Chanel site they'll be sorely disappointed with what they find: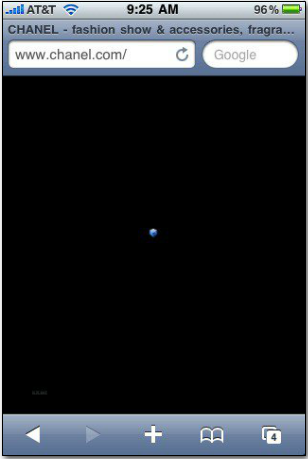 To be fair, that was Chanel's old website that relied on Flash. Here's their website today:
The current website is better than a broken Flash object, but this mobile web page falls far short when compared to Chanel's native app. This is where I see Jason's point: Many if not most mobile users engage with a company through their website, and URLs don't open apps. So it's important to provide an engaging web presence for mobile users.
The third point is from Scott Jenson's talk at Mobilism where he discusses "just-in-time interaction" – a world where my mobile device allows me to interact with the environment around me: stores, bus stops, and even movie posters.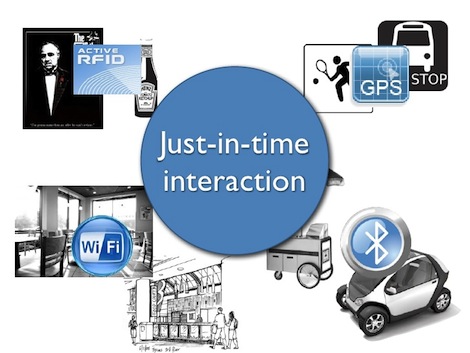 But this highly interactive experience doesn't work with native apps. Here's an excerpt from his related blog post that explains why:
There is no way that I'm going to be able to or even desire to try this type of just-in-time interaction with our current application model today. The energy involved in finding, downloading, using, and most importantly, throwing away an app is just far too great.
While native apps present too much of a hurdle for easy interaction on mobile devices to ubiquitous services, the Web is perfect for that.
My final data point is from the article Why Publishers Don't Like Apps lamenting the trials and tribulations of building native apps in the world of publishing. Besides the technological challenges, publishers run a business trying to sell articles and issues for money. But after entering the native app market they found the margins were too small:
Apple demanded a 30 percent vigorish on all single-copy sales through its iTunes store. Profit margins in single-copy sales are thinner than 30 percent; publishers were thus paying Apple to move issues.
I'm not saying you shouldn't build native apps. And I don't want to have yet-another-debate about web vs. native. I simply want to suggest that you start creating your mobile presence as a web presence. That's where users are most likely to find you, and you want to give them a good experience when they do.