Making the HTTP Archive faster
This week I finally got time to do some coding on the HTTP Archive. Coincidentally (ironically?) I needed to focus on performance. Hah! This turned out to be a good story with a few takeaways – info about the HTTP Archive, some MySQL optimizations, and a lesson learned about dynamic script loaders.
Setting the stage
The HTTP Archive started in November 2010 by analyzing 10K URLs and storing their information (subresource URLs, HTTP headers, sizes, etc.) in a MySQL database. We do these runs twice each month. In November 2011 we began increasing the number of URLs to 25K, 50K, 75K, and finally hit 100K this month. Our goal is to hit 1M URLs by the end of 2012.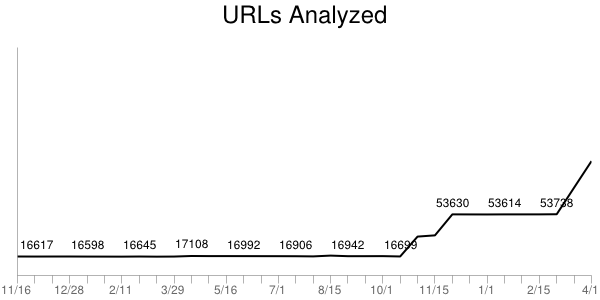 The MySQL schema in use today is by-and-large the same one I wrote in a few hours back in November 2010. I didn't spend much time on it – I've created numerous databases like this and was able to quickly get something that got the job done and was fast. I knew it wouldn't scale as the size of the archive and number of URLs grew, but I left that for another day.
That day had arrived.
DB schema
The website was feeling slow. I figured I had reached that curve in the hockey stick where my year-old schema that worked on two orders of magnitude less data was showing its warts. I saw plenty of slow queries in the log. I occasionally did some profiling and was easily able to identify queries that took 500 ms or more; some even took 10+ seconds. I've built big databases before and had some tricks up my sleeve so I sat down today to pinpoint the long poles in the tent and cut them down.
The first was pretty simple. The urls table has over 1M URLs. The only index was based on the URL string – a blob. It took 500-1000 ms to do a lookup. The main place this happens is looking up the URL's rank, for example, in the last crawl Whole Foods was ranked 5,872 (according to Alexa). This is a fairly non-critical piece of information, so slowing down the page 500-1000 ms wasn't acceptable. Plus this seems like a simple lookup ripe for optimizing.
When I described this problem to my Velocity co-chair, John Allspaw, he suggested creating a hash for the URL that would be faster to index. I understood the concept but had never done this before. I didn't find any obvious pointers out there on "the Web" so I rolled my own. I started with md5(), but that produced a fairly long string that was alphanumeric (hex):
select md5("http://www.wholefoodsmarket.com/");
=> 0a0936fe5c690a3b468a6895efaaff83
I didn't think it would be that much faster to index off the md5() hex string (although I didn't test this). Assuming that md5() strings are evenly distributed, I settled on taking a substring:
select substring(md5("http://www.wholefoodsmarket.com/"), 1, 4);
=> 0a09
This was still hex and I thought an int would be a faster index (but again, I didn't test this). So I added a call to conv() to convert the hex to an int:
select conv(substring(md5("http://www.wholefoodsmarket.com/"), 1, 4), 16, 10);
=> 2569
I was pretty happy. This maps URLs across 64K hashes. I'm assuming they're evenly distributed. This conversion is only done a few times per page so the overhead is low. If you have a better solution please comment below, but overall I thought this would work – and it did! Those 500+ ms queries went down to < 1 ms. Yay!
But the page was still slow. Darn!
Duh – it's the frontend
This and a few other MySQL changes shaved a good 2-3 seconds of the page load time but the page still felt slow. The biggest problem was rendering – I could tell the page arrived quickly but something was blocking the rendering. This is more familiar performance territory for me so I gleefully rolled up my sleeves and pulled out my WPO toolbox.
The page being optimized is viewsite.php. I used WebPagetest to capture a waterfall chart and screenshots for Chrome 18, Firefox 11, IE 8, and IE 9. The blocking behavior and rendering times were not what I consider high performance. (Click on the waterfall chart to go to the detailed WebPagetest results.)
Chrome 18:

Firefox 11: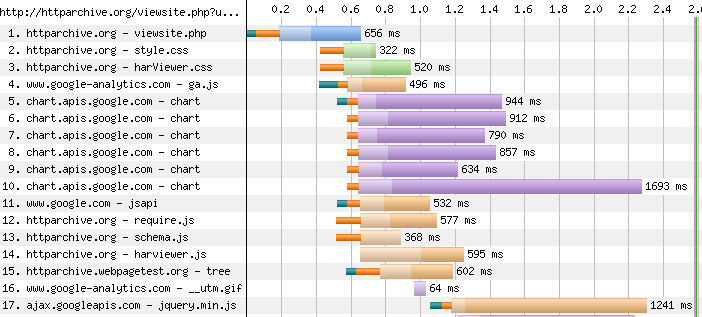 Internet Explorer 8:

Internet Explorer 9:

These waterfall charts looked really wrong to me. The start render times (green vertical line) were all too high: Chrome 1.2 seconds, Firefox 2.6 seconds, IE8 1.6 seconds, and IE9 2.4 seconds. Also, too many resources were downloading and potentially blocking start render. This page has a lot of content, but most of the scripts are loaded asynchronously and so shouldn't block rendering. Something was defeating that optimization.
Docwrite blocks
I immediately honed in on jquery.min.js because it was often in the critical path or appeared to push out the start render time. I saw in the code that it was being loaded using Google Libraries API. Here's the code that was being used to load jquery.min.js:
<script src="http://www.google.com/jsapi"></script>
<script>
google.load("jquery", "1.5.1");
</script>
I've looked at (and built) numerous async script loaders and know there are a lot of details to get right, so I dug into the jsapi script to see what was happening. I saw the typical createElement-insertBefore pattern popularized by the Google Analytics async snippet. But upon walking through the code I discovered that jquery.min.js was being loaded by this line:
m.write('<script src="'+b+'" type="text/javascript"><\/script>'):
The jsapi script was using document.write to load jquery.min.js. While it's true that document.write has some asynchronous benefits, it's more limited than the createElement-insertBefore pattern. Serendipitously, I was just talking with someone a few weeks ago about deprecating the jsapi script because it introduces an extra HTTP request, and instead recommend that people just load the script directly. So that's what I did.
We don't need no stinkin' script loader
In my case I knew that jquery.min.js could be loaded async, so I replaced the google.load code with this:
var sNew = document.createElement("script");
sNew.async = true;
sNew.src = "http://ajax.googleapis.com/ajax/libs/jquery/1.5.1/jquery.min.js";
var s0 = document.getElementsByTagName('script')[0];
s0.parentNode.insertBefore(sNew, s0);
This made the start render times and waterfall charts look much better:
Chrome 18: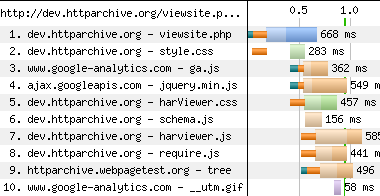 Firefox 11: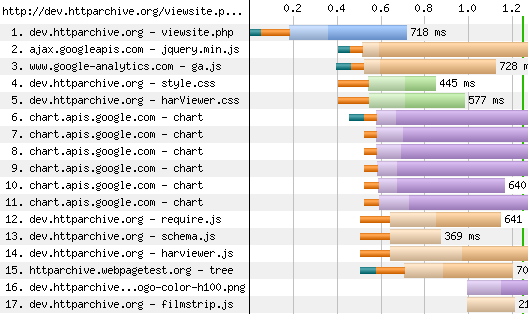 Internet Explorer 8:

Internet Explorer 9:
There was better parallelization of downloads and the start render times improved. Chrome went from 1.2 to 0.9 seconds. Firefox went from 2.6 to 1.3 seconds. IE8 went from 1.6 to 1.1 seconds. IE9 went from 2.4 to 1.0 seconds.
This was a fun day spent making the HTTP Archive faster. Even though I consider myself a seasoned veteran when it comes to web performance, I still found a handful of takeaways including some oldies that still ring true:
Even for web pages that have significant backend delays, don't forget to focus on the frontend. After all, that is the Performance Golden Rule.
Be careful using script loaders. They have to handle diverse script loading scenarios across a large number of browsers. If you know what you want it might be better to just do it yourself.
Be careful using JavaScript libraries. In this case jquery.min.js is only being used for the drop down About menu. That's 84K (~30K compressed) of JavaScript for a fairly simple behavior.
If you're curious about why document.write results in worse performance for dynamic script loading, I'll dig into that in tomorrow's blog post. Hasta mañana.