bookmarklets for mobile: Mobile Perf and Page Resources
As I announced yesterday, I'm now focusing on mobile performance. Not surprisingly, I've laid claim to MobilePerf.com and MobilePerf.org. Right now they just redirect to my Mobile Perf home page. Step 1 is complete.
So – what should we do next?
I'm on my Nexus S and iPhone all the time and find surfing the Web to be agonizingly slow. That's not a huge surprise – hence my current job as a performance wonk. (Oooo – that's a good name – perfwonk.com and perfwonk.org booked.) Being a performance wonk I always wonder why the sites I visit are slow on mobile. To figure that out I need some visibility into mobile browsers.
The problem is the browser tools we use on our desktop (Firebug, Page Speed, YSlow, Dynatrace, Speed Tracer, etc.) don't work on mobile devices. Many of these are browser add-ons which aren't (yet) supported on mobile. Others are executables that are limited to specific OSes which don't include any mobile OS.
I've built a bunch of browser tools. Before I start coding a new one I pause and ask myself, "Bookmarklet, Greasemonkey script, or add-on?" in that order. Here's the high-level trade off analysis:
Bookmarklets generally work across all browsers. They're plain JavaScript which I know pretty well. But they have no special privileges, so things like same domain restrictions still apply.
Greasemonkey scripts work across several of the major browsers. They're mostly JavaScript with a small API that unfortunately varies by browser, so they're slightly more complex to build than bookmarklets. The benefit over bookmarklets is they have greater functionality including automatic launching and cross-site XHR.
Browser add-ons are the most powerful, but they're also the most complex to build. The development stack is different in each browser, and most non-major browsers don't support add-ons.
For mobile our hands are tied – bookmarklets are really the only choice right now. Over the weekend I wanted to start analyzing mobile browsers so I found some useful bookmarklets to do that: Firebug Lite, DOM Monster, SpriteMe, CSSess, and Zoompf. I also built a new one: Page Resources.
Setting up bookmarklets in a desktop browser is easy, but it's more painful in mobile browsers. I wasn't looking forward to setting up each of these bookmarklets on multiple devices, let alone evangelizing that to other mobile developers. In email with Thomas Fuchs about making DOM Monster open to the public (which he nicely did) he suggested I create a meta-bookmarklet that linked to these other bookmarklets. So I did!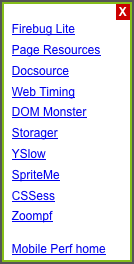 Now you can install the Mobile Perf bookmarket and get access to a variety of other bookmarklets through a simple popup menu. One stop shopping for bookmarklets! This works equally well in desktop browsers, but it's especially helpful on mobile where setting up bookmarklets is more time-consuming. (Checkout the step-by-step mobile installation instructions – quite a bit more complex than a simple drag-and-drop.)
You can see screenshots of each bookmarklet on the Mobile Perf bookmarket home page. As usual I could use help with the UI. (You can see mobileperfbkm.js and pageresources.js, so just send me patches.) Certainly send me bugs and suggestions for other bookmarklets you think should be added. Before sending a suggestion please test it on some mobile devices and make sure it works well.
Next I'll be analyzing a bunch of websites and seeing if I can find some core issues. Plus I'll be enhancing these tools and trying pcapperf with my new 13″ MackBook Air to generate HTTP waterfall charts and Page Speed reports.