Velocity: TCP and the Lower Bound of Web Performance
John Rauser (Amazon) was my favorite speaker at Velocity. His keynote on Creating Cultural Change was great. I recommend you watch the video.
John did another session that was longer and more technical entitled TCP and the Lower Bound of Web Performance. Unfortunately this wasn't scheduled in the videotape room. But yesterday Mike Bailey contacted me saying he had recorded the talk with his Flip. With John's approval, Mike has uploaded his video of John Rauser's TCP talk from Velocity. This video runs out before the end of the talk, so make sure to follow along in the slides so you can walk through the conclusion yourself. [Update: Mike Bailey uploaded the last 7 minutes, so now you can hear the conclusion directly from John!]
John starts by taking a stab at what we should expect for coast-to-coast roundtrip latency:
Roundtrip distance between the west coast and the east coast is 7400 km.
The speed of light in a vacuum is 299,792.458 km/second.
So the theoretical minimum for roundtrip latency is 25 ms.
But light's not traveling in a vacuum. It's propagating in glass in fiber optic cables.
The index of refraction of glass is 1.5, which means light travels at 66% of the speed in glass that it does in a vacuum.
So a more realistic roundtrip latency is ~37 ms.
Using a Linksys wireless router and a Comcast cable connection, John's roundtrip latency is ~90ms. Which isn't really that bad, given the other variables involved.
The problem is it's been like this for well over a decade. This is about the same latency that Stuart Cheshire found in 1996. This is important because as developers we know that network latency matters when it comes to building a responsive web app.
With that backdrop, John launches into a history of TCP that leads us to the current state of network latency. The Internet was born in September of 1981 with RFC 793 documenting the Transmission Control Protocol, better known as TCP.
Given the size of the TCP window (64 kB) there was a chance for congestion, as noted in Congestion Control in IP/TCP Internetworks (RFC 896):
Should the round-trip time exceed the maximum retransmission interval for any host, that host will begin to introduce more and more copies of the same datagrams into the net. The network is now in serious trouble. Eventually all available buffers in the switching nodes will be full and packets must be dropped. Hosts are sending each packet several times, and eventually some copy of each packet arrives at its destination. This is congestion collapse.

This condition is stable. Once the saturation point has been reached, if the algorithm for selecting packets to be dropped is fair, the network will continue to operate in a degraded condition. Congestion collapse and pathological congestion are not normally seen in the ARPANET / MILNET system because these networks have substantial excess capacity.
Although it's true that in 1984, when RFC 896 was written, the Internet had "substantial excess capacity", that quickly changed. In 1981 there were 213 hosts on the Internet. But the number of hosts started growing rapidly. In October of 1986, with over 5000 hosts on the Internet, there occurred the first in a series of congestion collapse events.
This led to the development of the TCP slow start algorithm, as described in RFCs 2581, 3390, and 1122.  The key to this algorithm is the introduction of a new concept called the congestion window (cwnd) which is maintained by the server. The basic algorithm is:
initalize cwnd to 3 full segments
increment cwnd by one full segment for each ACK
TCP slow start was widely adopted. As seen in the following packet flow diagram, the number of packets starts small and doubles, thus avoiding the congestion collision experienced previously.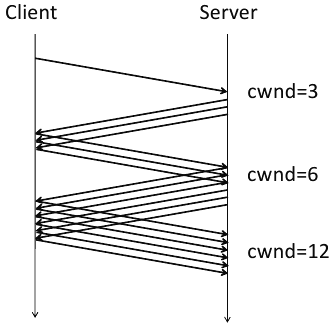 There were still inefficiencies, however. In some situations, too many ACKs would be sent. Thus we now have the delayed ACK algorithm from RFC 813. So the nice packet growth seen above now looks like this:
At this point, after referencing so many RFCs and showing numerous ACK diagrams, John aptly asks, "Why should we care?" Sadly, the video stops at this point around slide 160. But if we continue through the slides we see how John brings us back to what web developers deal with on a daily basis.
Keeping in mind that the size of a segment is 1460 bytes ("1500 octets" as specified in RFC 894 minus 40 bytes for TCP and IP headers), we see how many roundtrips are required to deliver various payload sizes. (I overlaid a kB conversion in red.)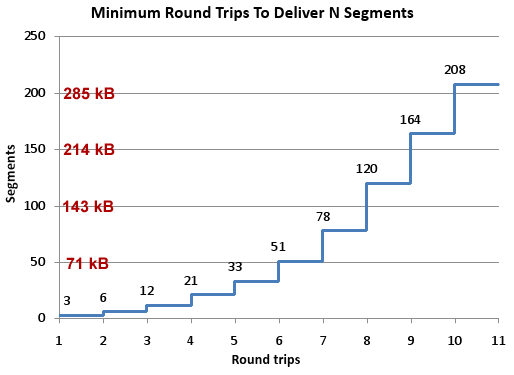 John's conclusion is that "TCP slow start means that network latency strictly limits the throughput of fresh connections." He gives these recommendations for what can be done about the situation:
Carefully consider every byte of content
Think about what goes into those first few packets

2.1 Keep your cookies small
2.2 Open connections for assets in the first three packets
2.3 Download small assets first

Accept the speed of light (move content closer to users)
All web developers need at least a basic understanding of the protocol used by their apps. John delivers a great presentation that is informative and engaging, with real takeaways. Enjoy!