Crockford, webhosting, online dating, JSON, alert
This is a fun story that has a security and performance point to it.
Earlier today, Dion Almaer tweeted:
Wow, Doug added an alert() to http://www.json.org/json2.js which just alerted a LOT of people on the Internet. Proving a point on hotlinks?
I was talking to Doug about his keynote at Add-on-Con tomorrow, and asked him what the motivation was for this alert message. It turns out his webhosting service had contacted him about the unusually high amount of traffic on json.org. Doug investigated and discovered that OnlineBootyCall was linking directly to http://json.org/json.js, in spite of this statement in the file:
USE YOUR OWN COPY. IT IS EXTREMELY UNWISE TO LOAD CODE FROM SERVERS YOU DO NOT CONTROL.
Linking directly to http://json.org/json.js is bad. Certainly, it puts a load on Doug's webhosting company that shouldn't be there. But more importantly, it exposes the content site to security and performance vulnerabilities. Loading third party scripts into the parent window gives that third party access to cookies and other potentially confidential information in the page. Accessing that script from a third party domain requires an additional DNS lookup (which can be costly). Also, if the script is at the top of the page (which it is in this case) and the third party site is slow or not responding, the entire page is left blank for thirty seconds or more.
It's best to reduce the number of third party scripts on your site. That was the reason Doug added the alert message to the top of json.js. If you haven't gone to OnlineBootyCall yet today, here's what you would've seen: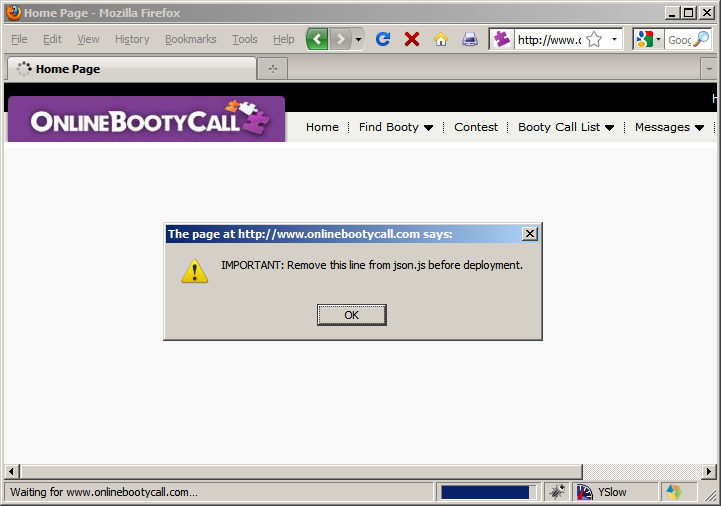 In Doug's words,
I'm helping onlinebootycall improve its performance.